GPU Architecture Overview
Contents
GPU Model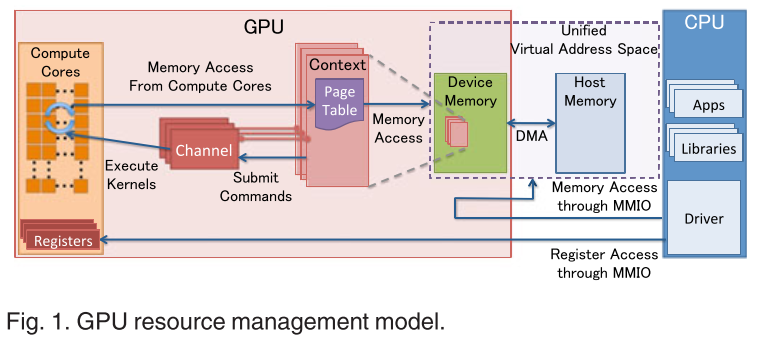 It explains several important designs that recent GPUs have adopted.
MMIO.

The CPU communicates with the GPU via MMIO.
Hardware engines for DMA are supported for transferring large amounts of data, however, commands should be written via MMIO.
The I/O ports can be used to indirectly access the MMIO regions, but rarely used. An open source device driver Nouveau currently never uses it.

GPU Context.

The context represents the state of the GPU computing.
Owns a virtual address space in the GPU.
Multiple active contexts can coexist on the GPU.

GPU Channel.

Any operation (e.g. launching a kernel) is driven by commands issued from the CPU.
The command stream is submitted to a hardware unit called a GPU channel.
Each GPU context can have one or more GPU channels. Each GPU context contains GPU channel descriptors (each descriptor is created as a memory object in the GPU memory).
Each GPU channel descriptor stores the settings of the channel, which includes a page table.
Each GPU channel has a dedicated command buffer that is allocated in the GPU memory that is visible to the CPU through MMIO.

GPU Page Table.

The GPU context is assigned using the GPU page table, which isolates the virtual address space from the others.
The GPU page table is separated from the CPU page table.
Resides in the GPU memory and its physical address is in a GPU channel descriptor.
All the commands and programs submitted through the channel are executed in the corresponding GPU virtual address space.
The GPU page tables translate a GPU virtual address into not only a GPU device physical address but also a host physical address. This enables the GPU page table to unify the GPU memory and host main memory into the unified GPU virtual address space.

PCIe BAR.

The base address registers(BARs) of the PCIe, which work as the windows of MMIO, are configured at the boot time of the GPU.
GPU control registers and GPU memory apertures are mapped onto the BARs.
This mapped MMIO windows are used by the device driver to configure the GPU and to access the GPU memory.

PFIFO Engine.

PFIFO is a special engine that the GPU commands are submitted through.
Maintain multiple independent command queues, known as channels.
A command queue is a ring buffer with the put and get pointers.
All accesses to channel control area are intercepted by PFIFO engine for execution.
GPU driver uses a channel descriptor to store the settings for associated channel.
Nouveau says that the PFIFO engine of the GPU reads commands from a section of memory, and relays them to the PGRAPH engine. (Maybe this for graphics?)

Bo

Nouveau and gdev uses bo really a lot.
Buffer Object (bo). A block of memory. It can store a texture, a render target, shader code, … everything.
References
Yusuke Suzuki et al. GPUvm: GPU Virtualization at the Hypervisor". IEEE Transactions on Computers. 2016
Hong-Cyuan Hsu et al. G-KVM: A Full GPU Virtualization on KVM". IEEE International Conference on Computer and Information Technology. 2016
Nouveau Terms. [Online] (Accessed at Apr 27, 2017. Documentation version Aug 24, 2013)
Nouveau Team. nVidia Hardware Documentation. [Online] (Accessed at Apr 27, 2017. Documentation version Apr 18, 2017)